Consultation and Participation Plan for the REDD+ process (April 2012)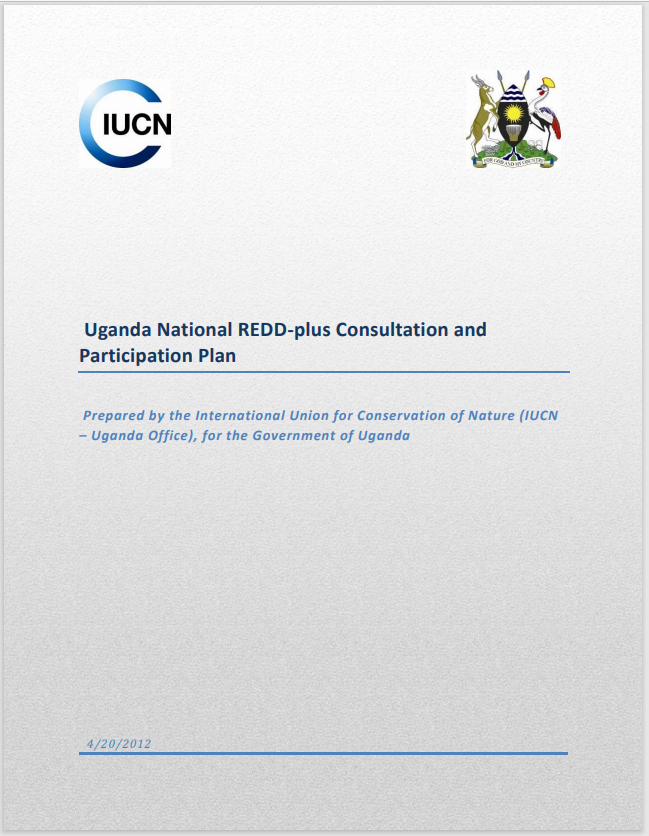 According to the Forest Carbon Partnership Facility (FCPF), REDD-Plus processes should ensure that the development process fully respects the dignity, human rights, economies, and cultures of local communities. It is out of this that recipient countries are encouraged to engage in consultations based on the principles of Free, Prior, and Informed consent (FPIC), which results
into broader support to the process by the communities1
.
Uganda submitted a Readiness Preparation Proposal (R-PP) to the Facility Management Team (FMT) in April 2011, which was reviewed by a Technical Advisory Panel (TAP); a working group consisting of Participants Committee (PC) members established for this purpose; and the World Bank. The PC at its ninth meeting in Oslo in June 2011 decided to allocate funding from FCPF to Uganda to enable it to move ahead with preparation for readiness. For this purpose, the PC requested, among other things, Uganda to submit a revised R-PP (Revised R-PP) to the fund management team (FMT), reflecting the key issues namely that "Uganda should develop a Consultation and Participation Plan, including a plan for consultation on and participation in Uganda's Strategic Environmental and Social Assessment process, to be validated by key stakeholders at a national level" before entering into a Readiness Preparation Grant Agreement with the (World Bank as the) Trustee of the Readiness Fund2.
This Consultation and Participation (C&P) plan is intended to meet the Participants Committee (PC) request (as stated in Resolution PC/9/2011/3)3
and to guide the country on the structures and activities that will be undertaken to ensure an all-inclusive, effective and informed consultation and participation by relevant stakeholders, in the formulation of the REDD-plus strategy, especially the vulnerable, marginalized and forest dependent communities
4 . This plan will cover a period of three years from 2012 – 2014. The C&P plan is complimented by the Communication and Awareness (C&A) sub-plan; and the
Conflicts and Grievances (C&G) management sub-plan, which are included as components II and III respectively. The plan was developed through a consultative process (involving targeted community meetings with opinion leaders at the local level; The National REDD-plus Working group (RWG); and its sub-working groups)
5 and a comprehensive review of REDD-Plus related
literature
6. It was validated by key stakeholders at a national level, reviewed and approved by the National REDD-plus Steering Committee.
1 UN-REDD+ Draft . Programme Guidelines on Free, Prior and Informed Consent, 2011
2 Resolution PC/9/2011/3. 2011. Forest Carbon Partnership Facility (FCPF) Ninth Participants Committee Meeting; June 20-22,
2011; Oslo, Norway; Resolution PC/9/2011/3; Uganda's Readiness Preparation Proposal.
3 Ibid.
4 This is synonymous with reference to the indigenous people in other areas, as referred to in the FCPF.
5 Community meetings with opinion leaders at the local level; Meetings of the REDD+ Steering committee; Working group; sub-working groups and National Validation workshop.
6 World Bank (WB) SESA and ESMF guidelines, the UNFCCC guidelines on safe guards, the UN-REDD Social and Environmental Principles and the CCBA Guidelines.
2
Prepared with funding from DANIDA
The structure proposes a three level approach that promotes effective representation,
meaningful participation and empowerment of stakeholders to ensure that REDD-plus benefits
are well streamlined and accessed by all categories of stakeholders. Coordinated by the REDDplus National Focal Point/Secretariat and supported by the National Consultation and
Participation Taskforce, the process shall target all key stakeholders countrywide. Several
participatory approaches including meetings, workshops, interactive media (talk shows)
programmes and publicity messages/IEC materials and direct interviews will be used to consult
on issues.